Create photo contests
Easily create, run, fundraise and analyze your own online photo contest. It doesn't matter whether you want to provide a selection of photos for voting or first collect the photos of your photographers.
Create PollUnit
Tour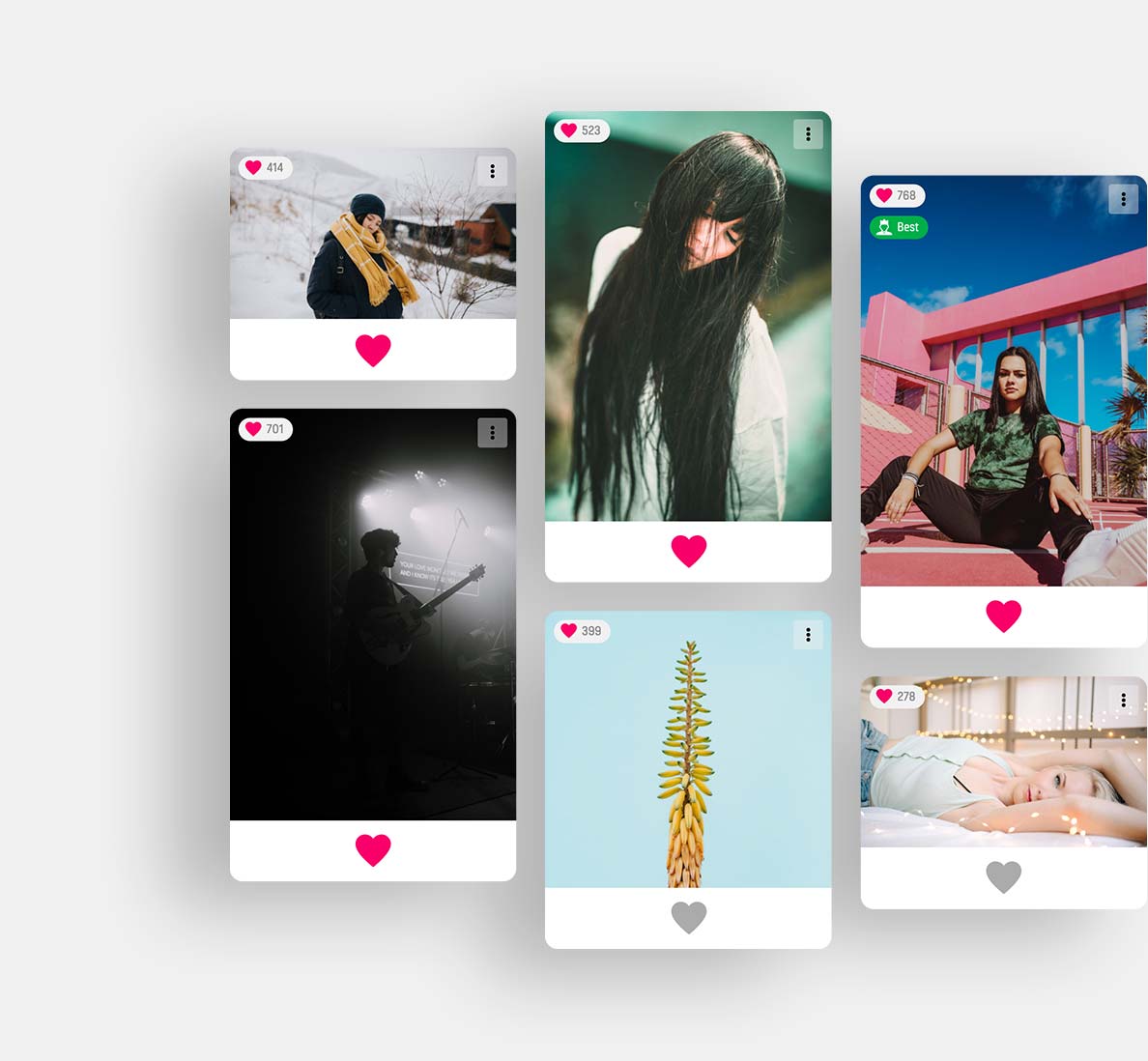 Vote for photos
After the photos have been uploaded to our photo contest software, we will automatically create a gallery, thumbnails and a preview for you.
Depending on your configuration you can allow photographers to upload image series instead of a single image. This empowers photographers to tell a story through visual sequences and capture diverse perspectives.
In our online photo gallery your participants can view pictures and vote for them. Besides our heart voting you can also choose other voting types like dot voting, star rating and simple upvoting.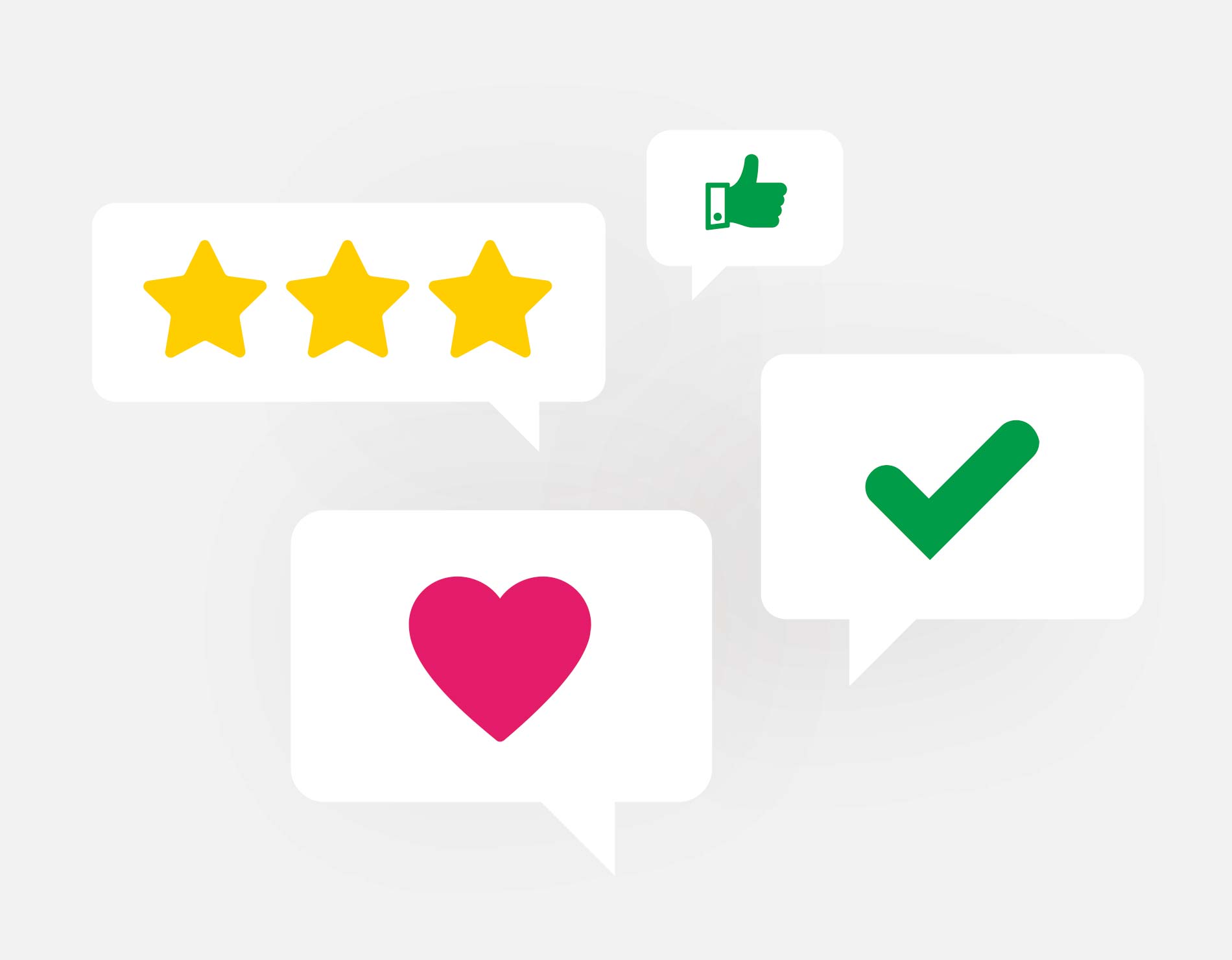 »Love«, »like« or rate photos:
The PollUnit voting types
Decide how emotional your participants can vote. Upvote features include simple yes/no checkboxes, a thumbs up to say »like« and the ability to give hearts »love« to photos.
If a simple upvote isn't enough, you can use star rating or dot voting to rate photos on configurable scales.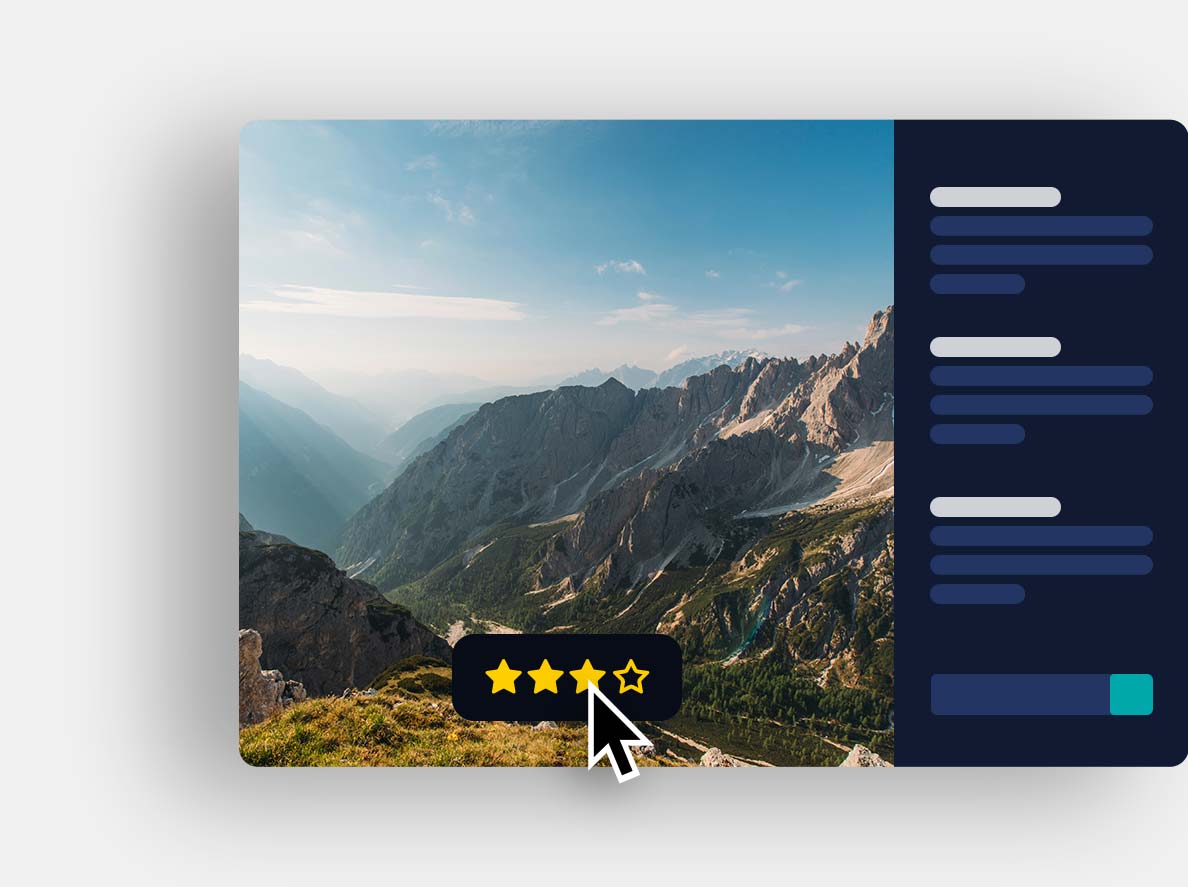 Review, comment and rate photos in full screen
Whether wiping on your smartphone or using your mouse and keyboard: in the Lightbox you can navigate through your photos quickly and easily.
Review, rate, and comment on photos in our high resolution full screen mode. This makes PollUnit the ideal photo feedback software - not only for camera and photo clubs. You decide which functions are enabled in your photo contest.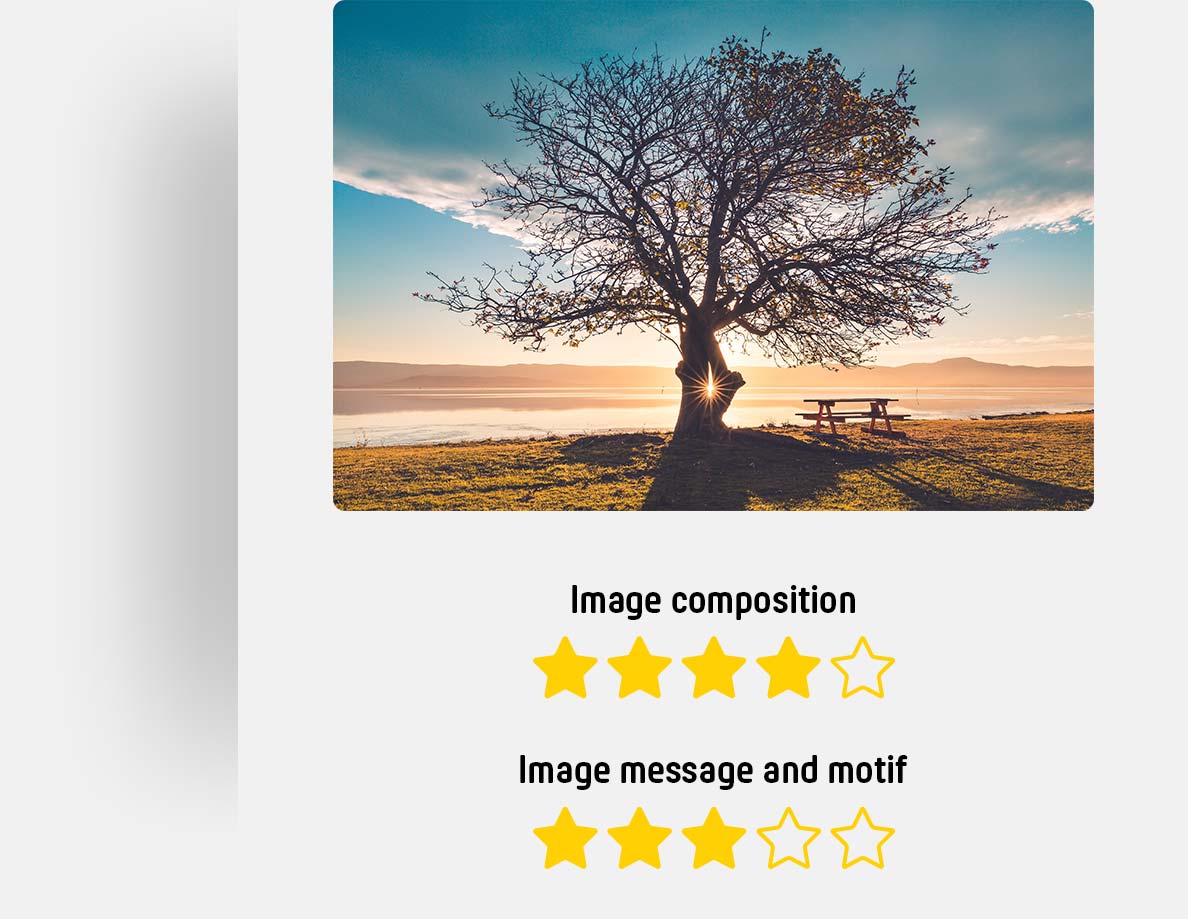 Rate photos in categories
Optional voting categories help to specify judging criteria. Categories such as technique, image composition, image message, motif, etc. help to evaluate and rate images more objectively. Thus, a fairer judgment can be formed during the analysis in the photo review.
Winners can be chosen for each category. For an overall winner, the individual ratings of the categories can be combined.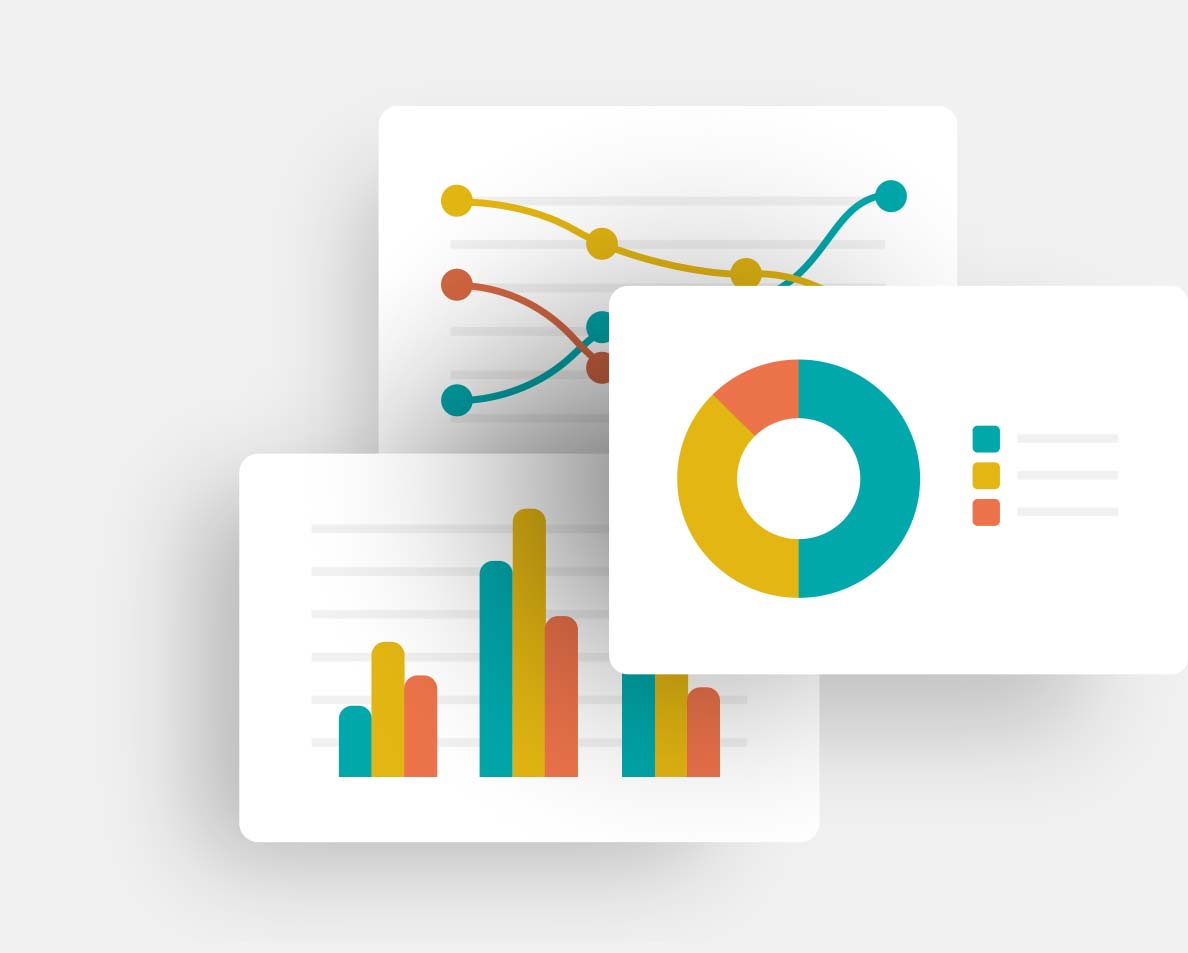 Evaluate photo contest
Our photo contest platform offers numerous functions to evaluate and monitor your competitions. This includes the possibility to export the collected information as CSV or Excel.
Evaluation
Run GDPR-compliant photo competitions
As creator of a photo competition you decide whether and which information your participants have to provide. Participants are photographers who upload their photos or voters who rate the photos. For each of these groups you can make your own settings.
If you collect personal data, you can inform the persons concerned in your own privacy policy. Optionally, you can call up users for confirmation with the help of Single and Double Opt-In.
You can also clarify rights of use, prices etc. with your own terms and conditions.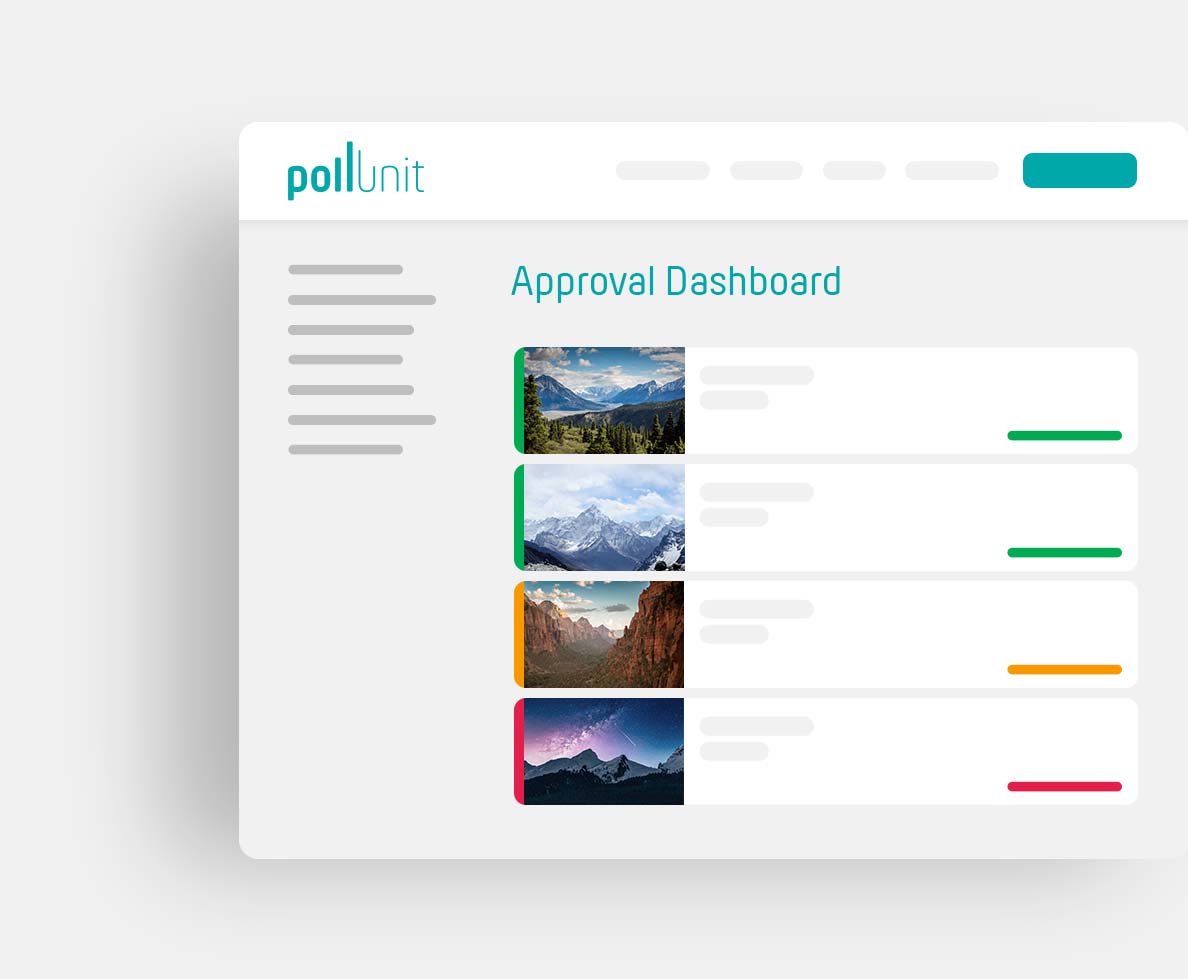 Submission Approval Dashboard
When approval is required, new options or uploaded photos must be accepted before they are published.
Submitted content can be archived in the categories New, Approved and Disapproved.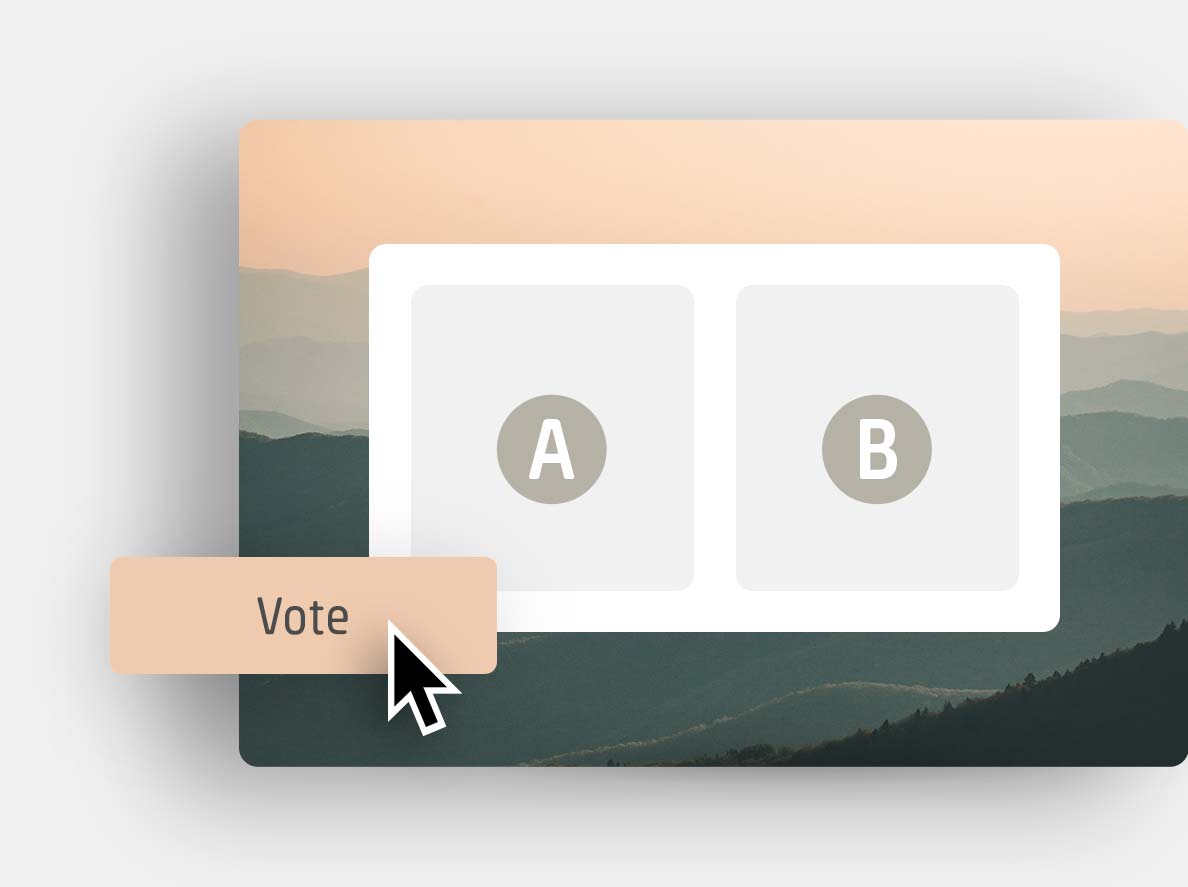 Photo Competition in Pairwise Comparison
With PollUnit, you have the opportunity to organize a photo competition using the pairwise comparison method. In this approach, two randomly selected images compete against each other in multiple rounds. Participants are tasked with selecting their preferred photo in each round. Based on these collected preferences, a relative ranking is generated.
This type of PollUnit is particularly useful when you have many photos for voting. It allows for a balanced and fair evaluation of the photos, regardless of the number of participants.
Pairwise Comparison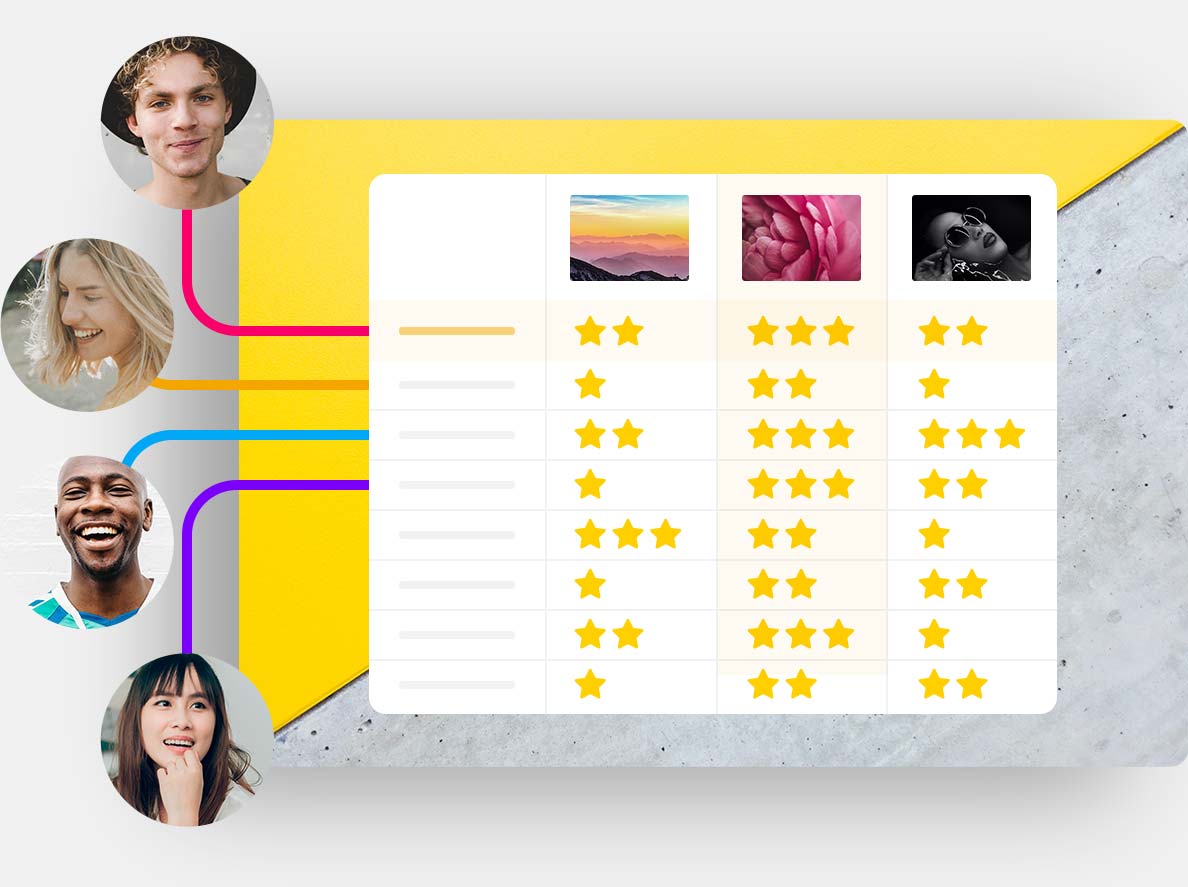 Further alternatives to the photo competition
Beside the photo contest you can also create a simple image voting with PollUnit. This type focuses on the opinions of your participants. In a tabular view you and your participants can see the distribution of votes - ideal for prioritizing graphics or finding the most popular logo.
Compared to the photo competition, only a small number of photos can be included.
More about image polls
Receive submission fees or donations
Our contest software with entry fee processing allows you to, charge both submitting and voting people fees or ask them to donate. This makes PollUnit not only the ideal tool to create a fundraising photo contest.
Use PolUnit as a platform for photo submissions and allow submissions upon payment of a fee. It is also possible to receive optional donations from the submitters. An extended feature set is available to you for voting participants. Here you can monetize your contest through fees and donations, but also sell votes (known as a donate-to-vote system).
A donate-to-vote photo contest allows multiple votes on the same image. The amount of the donation influence the weight of the vote, such that larger donations carry more weight in the final results. It is especially popular for non-profit organizations. The donation amount is set by the organizer running the contest, and can range from a few dollars to hundreds or even thousands of dollars.
To raise funds or receive fees, you need to link your Stripe account to PollUnit. Learn more in our donations and participation fees tutorial.
No installation nor registration necessary
Participation is possible from any device such as PC, laptop, smartphone or tablet - without installing a photo challenge app nor registering.
Become more creative with photo challenges
Organize online photography challenges and push your participants with daily tasks to try out new ideas and techniques. With our »clone« function you can use existing challenges as template and create your next online photography challenge with just a few clicks.
Create photo contest:
It's that simple
Configure your photo contest
Invite photographers to submit their photos
Let your participants rate the photos
Evaluate your photo contest and choose the winner
Frequently Asked Questions